Wellquip Energy Services Limited
Wellquip Energy is a wholly(100%) and full discipline engineering Nigerian company engaged in provision of Engineering, Procurement, process operations and Construction Services to the Nigerian Oil and Gas industry, marine/coastal, dredging, power, petrochemical industries and government agencies. Our Sister company Wellquip Energy Resources Inc, Houston, USA coordinates all WESL foreign operations and provide technical support to the local company as may be required in all her field of operations.
We develop enhanced expertise, innovative and cost effective standardized technologies through strategic engineering alliance with reputable firms in relevant disciplines and so deliver customized packages tailored to clients' specifications, standards and budgets.
Our competitive, fit-for-purpose, easy-to-use and environmentally friendly new improved technology covers Pipeline, Storage Tank/Metallic Surfaces leak containment and repairs using Aquawrap and Self Sealing Repairs Clamps (SSRC), Equipment & Facility Maintenance using Ice Blasting Technology and Supply of Special Valve; Self Lubricating, free of Cavities and Maintenance (for about 7yrs) and long durability.
Wellquip over the years has delivered memorable results to our multinational clients including Total, Baker Hughes, SNEPCo, Schlumberger, Agip, Amni Petroleum, Oando Energy, Panocean and other Government institutions and industries with verifiable excellent track records
The company's strength spans through the length and breadth of our personnel, technology, financial status and project management experience. With our equipment and services database, we provide clients with cost-effective excellent services which exceed expectations.
Wellquip is well aware of health, safety and environmental (HSE) risks, offshore rules and regulations associated with her operations, The management of WESL has therefore developed policies, procedures and processes which continually guarantee safe operations in all our activities/projects at all times. This commitment to achieving excellence in Quality, Health, Safety and Environmental management has endeared us to our reputable clients and host communities who are partners in progress.
WELLQUIP ENERGY SERVICES LIMITED objective therefore is to apply her full EPC capability that seek to achieve high integrity services in Nigeria and internationally, thus contributing towards the economic and social growth of our operations areas (especially local communities) through the effective use of our project management skill, technology exchange and community development plan. WESL policy is therefore to render on-time high quality technical services in a safe manner and at best price.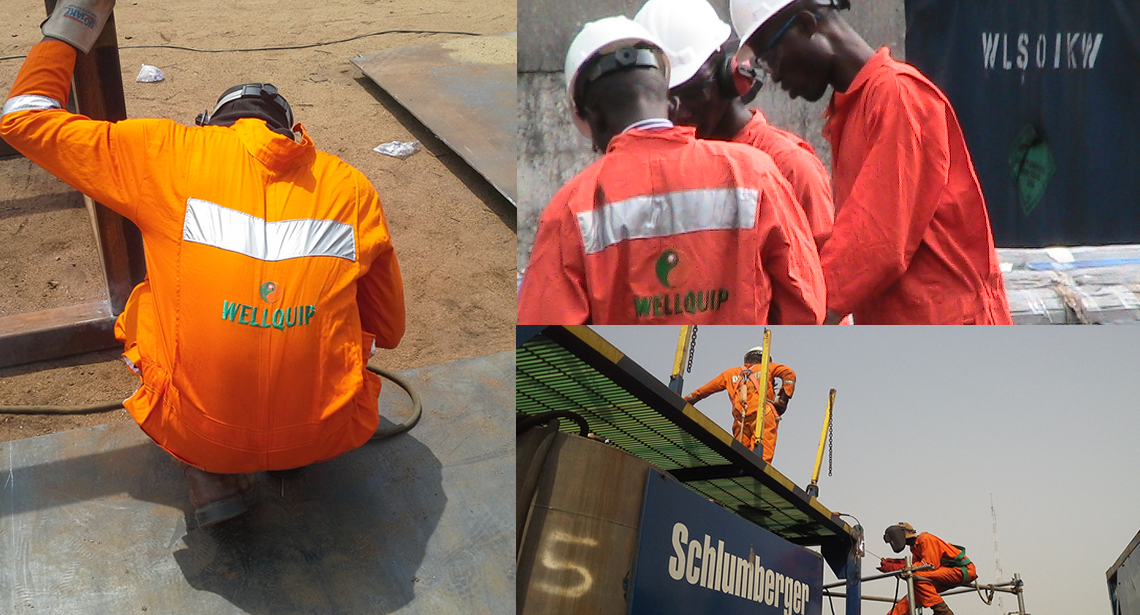 Wellquip Energy Services Limited is committed to operate professionally and ethically across all its business ventures.
All operations conducted by our company are assessed in terms of profitability, ethics, professionalism, legislation and the environment. Due to the nature of work undertaken by WELLQUIP, there is continual need for ethical and environmental awareness. As such WESL requires all projects, staff and equipment meet internationally accepted legislation and professional standards.
Our business at Wellquip Energy Services Ltd. is governed by core values which guide all our operations. These include Integrity, Honesty, Quality and Respect for people and environment.
This business Principle apply to all our transactions irrespective of the magnitude and drive the behaviour expected of our entire employees in company facilities. We are judged by how we act. Our reputation will be upheld if we act in accordance with the law and business principles. We encourage our business partners to live by these conducts or by equivalent principles. We encourage our employees to demonstrate leadership, accountability and teamwork, and through these behaviours contribute to overall success of WELLQUIP. Please Click here for a complete view of our Business Ethics Policy
---
Wellquip Energy's success in the industry is governed by our general business principles of supplying products and services which exceeds customers' expectation.

Below are some of the reasons why many choose us:
Integrity
Indigenous Asset
Personnel database
Equipment & Technology
Strong Financial Backup
Quality Products
Timely Delivery of Products and Services
Competitive price
Customers' Complete Products Satisfaction
Community Relationship
Office Network
How clients rate us on
Integrity
Quality of services / products
Delivery
Response
---